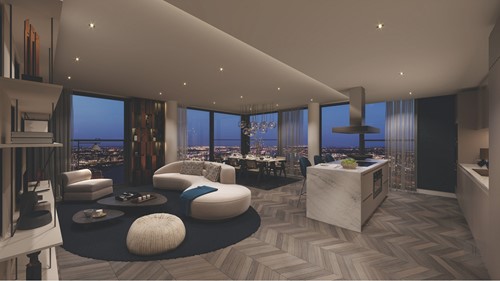 Photo by Mostafa Safadel on Unsplash

The penthouse is the pinnacle of real estate in many markets -- and places like New York and Miami -- have plenty of options to choose from. It's easy to get caught up in great decor or fall in love with a view, but there are other considerations as well. Here's what to think about when you shop for a luxury penthouse unit.
Expect to Pay a Premium: Most penthouses are priced above similar sized units in the same building, so be prepared to spend a little more for that amazing view and those amenities. A single penthouse spanning the top floor will command more of a premium rate than one that shares the floor with one or more other units.
You Can Still Negotiate: While a penthouse will command a higher price than any other unit in a specific building or location, you can and should negotiate the best deal. In cities with a glut of inventory in this price range, you may be able to secure a better price, simply by presenting the right offer. Your real estate agent can help you determine how flexible a price is and what fair market value is for a home you are considering.
Inventory Impacts Price: In high-rise dense cities like New York, there are always penthouse properties available. Outside of cities, though, you may have fewer options In vacation and resort areas with coveted views, there are only a small number of penthouse properties to begin with, and they are not all on the market at the same time. Act swiftly if a property you truly want becomes available to avoid missing out.
Visit at All Hours: If you will live in the penthouse property, you should visit it during the day, at night and on weekends. Because this property is near the roof, it may also be near HVAC and elevator equipment -- these can get noisy when in heavy use. Newer penthouses have insulation and soundproofing, but older ones may not, so the home could be noisier than you expect when everyone else in the building is home.
Is the view guaranteed? A building that faces the ocean and is directly on the beach will have a view that is not interrupted by future construction, but not all penthouses fit this description. You should be aware of zoning and building possibilities -- could a taller building be placed in front of yours -- disrupting your view? Your agent can help you discover if this nightmare scenario is a risk factor in any home you are considering.
Buying a penthouse is different from other luxury property purchases, because the view and position of the home offer so much and contribute to the price. Be aware of the setup of the building and its location -- and be ready to move if a penthouse becomes available in a market with scant inventory. Your real estate agent can watch for new listings and help you be first in line to view new luxury properties as they arrive in the marketplace and ensure you don't miss out on the home of your dreams.