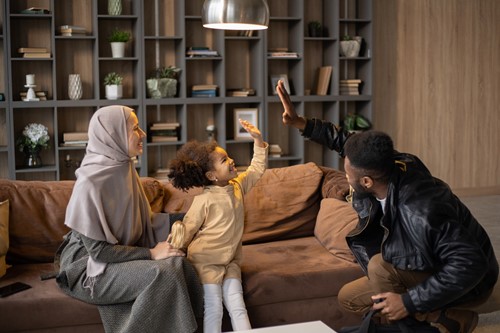 As you make plans to build your own home, give yourself room for some customization. Your budget may not allow you to customize everything so will need to consider your priorities. Here are three key areas you should focus on to customize your home to make it more functional and enjoyable.
1. Customize the Kitchen
The kitchen is the hub of the home. This is not only where meals are made but where homework gets done, meetings take place and daily check-ins with family members occur. The kitchen is also a major selling feature of your home when you're ready to move somewhere new. This room is worth spending some time and money customizing.
In the kitchen you might consider a variety of custom features:
Energy-efficient appliances

Custom cabinetry and countertops

Elegant sink fixtures

Spacious pantry and storage options

Useful kitchen islands
The more custom features you can add in the kitchen, the more functional your home will be to meet your needs.
2. Finish the Basement
Many floor plans include unfinished basements. If you have enough budget, take the time to customize this space based on your needs. A basement becomes a perfect family recreation or theater room. You can also make it your spot for entertaining, craft projects, or home school and office space.
Adding a bathroom during construction, or at least the plumbing for one, is always easier than trying to add this plumbing later. Setting up a wet bar makes getting a snack simple. All of these features will increase the functionality and convenience of the basement for you to enjoy while also adding significantly to the home's resale value.
3. Add Customized Storage
Storage is one of the most important yet overlooked features in a new home. As you consider custom options for your space, make sure you add ample storage. In the kitchen you will want a pantry to store canned and boxed goods. You may also want specific cabinets for larger pots and pans or appliances. In the bathroom make sure there is shelving or a linen closet to store toiletries and towels. Consider built-in shelving and cabinetry or walk-in closets for bedrooms. All of these features will cut down on the amount of furniture you need as well as conserve precious floor space. If the home has two stories, talk to the builder about adding under-the-stairs cabinets and closets to utilize this extra space. You can never have too much storage and building gives you the chance to add quite a bit before you even move into the home.
One of the benefits of building your home is the opportunity to customize it, but you may need a little direction to see where to start. By focusing on these three areas of your new house, you ensure that you get the most out of your new-build home